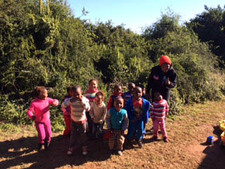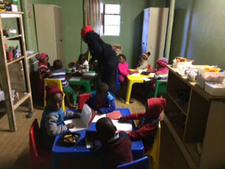 Many children in South Africa are not fortunate enough to be able afford to go to school. The Amakhala Foundation has helped thelocal community by starting a pre-school opposite Amakhala Game Reserve. The Pre-school has been open for five months now and allows children 3-5 years of age to attend twice a week.
The whole aim of the pre-school is to prepare the little ones for entering the Sidbury pre-school with an idea of how the school routine works and having some basic knowledge of colours, numbers and simple English.
Our pre-school teacher Thembisa has 12 children to teach, with places under demand. She has been working with children for about 4 years already at Sidbury School teaching 3-7 year olds and alternates between both schools during the week.
Thembisa has many challenges to face, as this is their first learning experience so it's her duty to teach them the simplest of things, how to hold a crayon and introduce them to English as well as learning new words of Xhosa, the local language.
Thembisa wasn't so lucky to have an opportunity like the children at Amakhala pre-school, she wasn't able to go to school till much later at about 6 years of age. She said "that it is very different to her schooling, they didn't have any puzzles or projects to work on in the classroom, children would be staying at home as they haven't got enough money to pay for schooling, it has changed something for them, to learn; it will change their lives to do better things "
Thembisa's favourite childhood memory was playing School with her friends which thankfully has turned out to be her career. Her favourite age to teach is 4 years of age, with numbers in particular being her favourite lesson. She would love to continue teaching for many years to come.