The Amakhala Foundation: empowering communities, conserving our environment
The Amakhala Foundation is home to the community and conservation projects of the Amakhala Game Reserve, as well as the educational projects of the Conservation Centre. It was established in 2009 to coincide with the Reserve's 10th anniversary, and is overseen by a Trust with five members.
The Foundation is funded by outside donor bodies as well as through the payment of bed levies from Amakhala's commercial lodges.
The Amakhala Foundation focuses on the following projects:
1. Environmental Education
The Foundation's Environmental Education programme aims to cultivate an understanding and love of nature in the children who visit the Amakhala Conservation Centre (ACC), thus increasing awareness and concern so that future generations can enjoy our natural habitats.

Local primary school children attend education days at the ACC, notably during National Water Week in March, on World Environment Day in June, and during Arbor Week in September. High school pupils are sponsored to enjoy a day of learning about habitats and ecosystems as well as experiencing the animals in their natural environment while on a game drive. A partnership with Coaching for Conservation also sees numerous 10 year olds learning about rhino while playing soccer. University students benefit educationally by visiting the Centre and conduct specialised research projects within the reserve. Each year, close to 2000 people, young and old, are able to connect with nature through these different programmes.

University students from Rhodes University and NMU have the opportunity to run selected research projects on the Reserve.
2. Craft Centre
Unemployed members of the local community are given an opportunity to generate income through our Craft Centre, where beaded articles, sewing items and printed items are sold.Beaded rhino medals are lovingly produced each year for a Rhino Run organised in the USA by Texas Christian University. The beaded items are made by a group of local women working from their homes, while the sewing is done on site by a woman who operates her own small business within the Centre.

Beaded bracelets made by the teenagers of the Isipho Project in nearby Paterson are also sold here. One-quarter of the sale price of the bracelets goes to a bursary fund to assist one or more of these teenagers with some tertiary education after leaving school. Duduzile Dumana is the first recipient of this bursary and recently graduated with a diploma in Journalism at Nelson Mandela Metropolitan University in Port Elizabeth.

Guests and members of the public may visit the Craft Centre during the week to purchase articles and meet Feziwe, the co-ordinator.
3. Isipho Charity Trust
The Isipho Charity Trust is an independent charity operating through a Centre in the nearby town of Paterson. It supports over 300 children through 2 preschool classes, an after-care programme, feeding scheme, materials support for schooling, and psycho-social support. It also provides much-needed HIV/AIDS education in the local community.

Amakhala has been part of Isipho's development almost from the outset: assisting with food parcels, raising half the funding required for the Isipho Charity Trust to buy its own property, and giving time and expertise through the services of two Amakhala members that serve on the Isipho Board.

The Amakhala Volunteer programme also makes a valuable contribution to this organization by providing manpower to assist with general maintenance of the property, the after-care programme and the running of computer classes, as well as beading afternoons.
4. Education & Skills Development
Staff members have been put through various in-house training programmes on an ongoing basis, to enable them to take on new positions and responsibilities. Staff are involved in Hospitality/Guiding Learnerships, leadership, parenting and financial skills training.

Young children of staff families have access to a bursary for the nearby local school, ensuring that the children can live at home and attend school until they are 10 years old. The Amakhala Foundation also provides funding for one small preschool –known as iJosi, and plans are afoot to open a second preschool.
Literacy Coordinator for the Amakhala Foundation, Cathy Gush, tells us more about the different Educational Projects
she heads up in our local community and surrounding areas.
CERTIFICATE OF ACHIEVEMENT 
In celebration of the tremendous contribution to education and conservation within the local community over the past decade, we are proud to award the Amakhala Foundation with this certificate of achievement.

This award recognizes the Foundation's successes in line with its vision to provide motivation and support to local community members through educational and conservation projects. These projects have empowered local citizens to improve their lives and enrich the Amakhala community that they are an integral part of.
Many of these projects are funded by outside donations. Should you wish to contribute and make a difference in the lives of the Amakhala community members, please visit our Conservation Fund .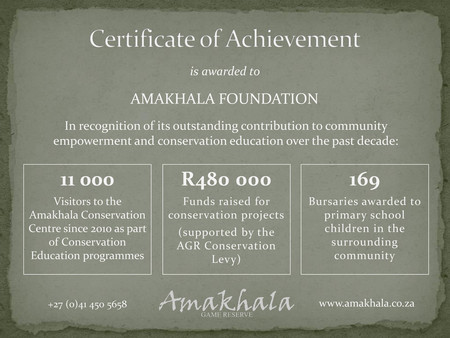 Award Nominations
2018

At the Kudu Award Ceremony; an annual SANParks event in Pretoria, the ACC was presented with an Environmental Education/Capacity Building Merit Award for its commitment to conservation through educational programmes which are aimed at imparting knowledge and skills to enhance the understanding of the environment.

2014

Runner up in the "Skills for Sustainability Award Category" in the Mail & Guardian 2014 Greening the Future Awards.

2012

Amakhala Foundation listed as a finalist in the category of "Best Social Involvement" for an Umvelo Award and as a finalist for a Virgin Holidays Responsible Tourism Award.

2011

The Conservation Centre nominated as a finalist for a Kudu Award, for the environmental education programme that it runs.