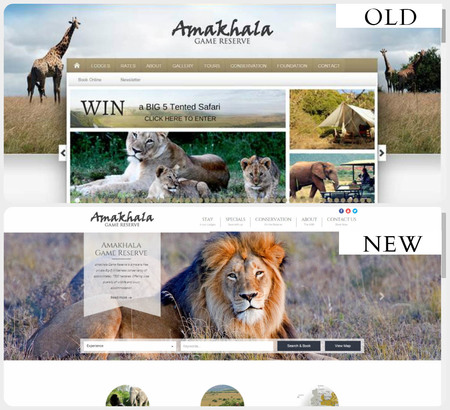 The Amakhala Game Reserve has a new site and wow are we exited to show it off. The new website brings both added style and functionality to the mix.
We're really excited about the new design and feel as it takes Amakhala Game Reserve into the next chapter online. The new design includes the following features:
New look and feel: The new site has some great new cutting edge visual elements: simple, elegant and slick design with updated fonts, graphics and functionality.
Responsive design: the whole site is now responsive. We were "mobile friendly" before, so the site would shrink to be visible on the device screen. Now, we've completely optimized the site to be fully responsive according to the device you choose to use. The site looks particularly good on tablet.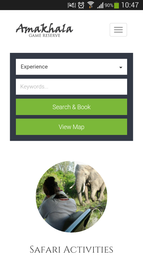 Simplified navigation
Improved search functionality to allow for the simplicity of user experience. On the new sites, browsers can search for star rated experiences (e.g. 3-star/ 4-star & 5-star), or simply search all lodges and tented camps to find what suites your style or by Map. The Map search is fully interactive.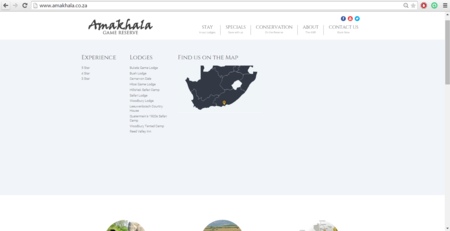 Lodge pages: Aside from a groovy new look, the new Lodge pages have great new functionality: dollar, euro and pound prices are displayed top right based on day to day exchange rates; amenities and highlights are displayed very neatly.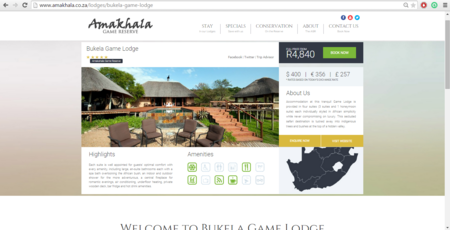 Integrated exchange rate pricing per Lodge – the lodge page now includes a "from" price which is quoted in Rand, Dollar, Euro and Pounds on your lodge page. 
Social links: These have been moved up to the top of the Amakhala website, and on each lodge been added to the banner, as we are now in a strong enough social media position to advertise these links.
Integrated social media links are linked to individual social media profiles and are now integrated into the top banner for all lodges with active social media profiles.
Let us know what you think about the new website and what your experience has been so far.