Riders looking for an unforgettable riding experience can saddle up for a ride on the wild side with Amakhala Horse Trails at Amakhala Game Reserve.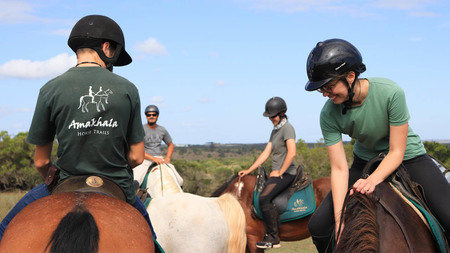 Amakhala Horse Trails offers a unique perspective of the bush: elevated on horseback, riders can enjoy incredible views of the surrounding landscape while gliding easily and quietly across terrain often inaccessible by vehicle. The unobtrusive nature of a horseback safari also allows for incredible animal sightings – riders can get as close as 10 to 15 metres from wildlife such as eland, wildebeest, zebra, hartebeest and giraffe. The trails provide an opportunity to explore 1700 hectares of African bush on horseback, including the chance to canter across open plains, take a slow trot to appreciate the views or walk quietly along secluded river lines.
Amakhala Horse Trails is run by Giles Gush, Amakhala Game Reserve partner and purveyor of Amakhala Horse Trails, along with Woodbury Tented Camp Manager, Katrin Barlow. It started out as an idea inspired by guests requesting horse trails in the area, and became a reality after they came across an urgent sale of 12 horses in the local newsletter. Today, guests at any lodge or camp at Amakhala Game Reserve can enjoy a personalised horse trail ride, an ideal activity between game drives. All horse trails are led by experienced and knowledgeable guides, equipped with first aid kits and communication equipment. The well-trained, sure-footed and reliable horses live free on the open plains with natural shelters. Each day, the horses come to the stables to receive natural grain and daily grooming.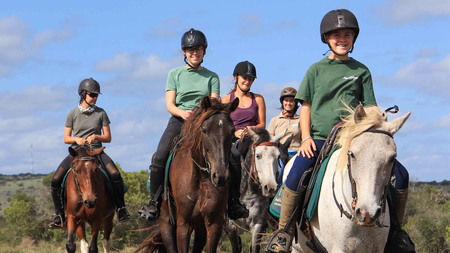 Amakhala Horse Trails caters for small groups of up to 6 intermediate to experienced riders. Experienced younger riders between 10 and 15 years old may also join, if accompanied by a parent or guardian. Horseback safaris typically last between two to three hours, and the speed of the trail ride is adjusted to the riders' level of experience. This allows plenty of time for wildlife viewing and finding the perfect spot to rest the horses and enjoy refreshments and snacks.
Overnight lodge visitors can add a horseback safari to their accommodation package at R850 p/p. Riding hats are available for guests to use.
Amakhala Horse Trails Guest Experience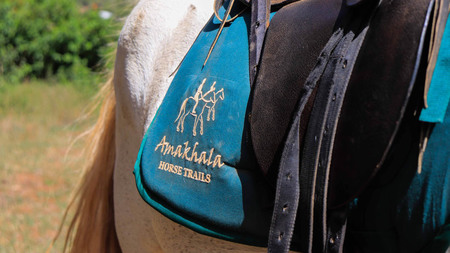 "During a recent visit to Amakhala Game Reserve, Amakhala Horse Trails provided an experience with a unique perspective by combining game viewing, nature trailing, local history and horse riding in an area dedicated to a variety of conservation breeding projects, free from large predators.
The sense of space and freedom that went hand in hand with the most remarkable game viewing opportunities made the whole experience memorable and unique. Riding through thickets typical of the Eastern Cape vegetation, our guides pointed out the indigenous trees and shrubs and explained their uses in the local culture, while sharing stories passed down through generations. They also drew our attention to the multitude of fascinating small animals, such as dung beetles, butterflies and tortoises.
The views were spectacular, and the game was undisturbed by our presence, giving us very privileged sightings. We enjoyed multiple viewings of game such as wildebeest, hartebeest, zebra, springbok, impala and eland, as well as an unforgettable time spent in the midst of a tower (group) of giraffe.
It was quite the most remarkable game viewing experience. It highlighted the uniqueness of viewing game on horseback and the unparalleled levels of access it offers.''
- Kerim Hilmi
Reserve expansion, equine anti-poaching unit and new Protected Area status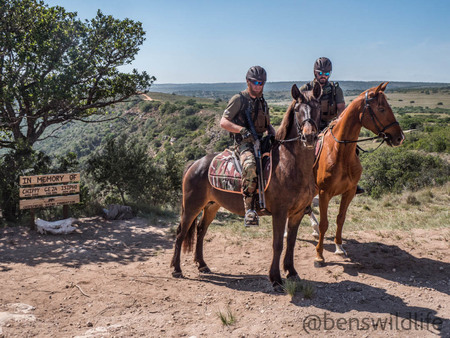 Amakhala Game Reserve now offers guests extended nature walks and horse trails, having recently tripled the size of its Carnarvon Dale section. The expansion has also provided additional grazing during the recent drought and benefits the area by providing a greater diversity of species and enhancing land management projects. Guests may also encounter the Amakhala's now fully-established and highly trained Equine Anti-Poaching Unit (APU), which initially started with horses loaned to the project by Amakhala Horse Trails, along with support in terms of equipment and rider training. Check out this incredible story about the Equine APU team and how it all got started by clicking HERE]
After a tremendous amount of work behind the scenes, the whole of Amakhala Game Reserve now enjoys "Protected Environment" status, as it is one of eight Eastern Cape reserves that form part of the newly-enacted Indalo Game Reserves Protected Environment. [Read more about the story of how Amakhala Game Reserve received Protected Status by clicking HERE].