In December 2018, some 15 Grade 2 and 3 pupils from Sidbury Primary School enjoyed an exciting new experience at the first ever ABC Reading Camp – the Amakhala Books and Conservation Camp – as part of the literacy programme being implemented by the Amakhala Foundation for children in the area.
The children experienced game drives and nature walks, as well as storytelling, reading and journaling inspired by nature and the animals. They also spent a night camping at the Amakhala Conservation Centre.
The Reading Camp was held over two days on 3 and 4 December and led by uber-storyteller Basil Mills, an administrator at the National English Literature Museum (NELM) in Grahamstown. NELM focuses on community development through education and literacy, including international storytelling and reading awareness. Basil is also an Animal Rescue and Rehabilitation worker, a historian and illustrator, and something of a local legend.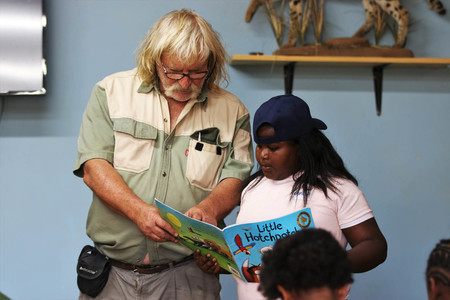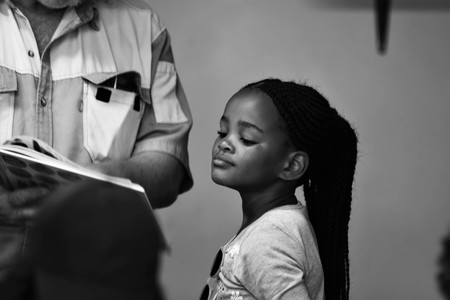 In addition to their journals, each child also received a take-home copy of Chris van Wyk's iconic Mr Hare meets Mr Mandela, as well as an additional reading book donated by the KidzdaLite preschool in Port Elizabeth. This preschool also kindly provided some of the funding for the camp.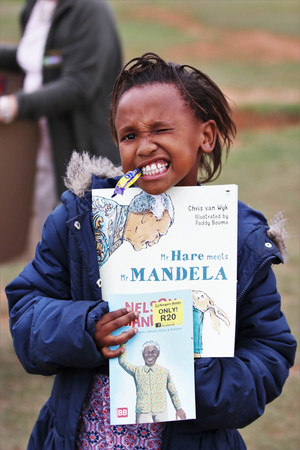 The ABC Reading Camp is the latest initiative from the Amakhala Foundation and a fine example of Amakhala's commitment to community development and conservation education. The Amakhala Foundation contributes to Amakhala Game Reserve's social development programmes and to the conservation and environmental educational projects of the Amakhala Conservation Centre (ACC).
Each year, close to 2000 people, young and old, are positively influenced by these programmes to learn about environmental issues and connect with nature.
"Amakhala Foundation is committed to building strong communities, families and individuals in the rural and conservation context in which Amakhala Game Reserve is located. Community is important to the Reserve, and a strong focus for the work of the Foundation," says Cathy Gush, Amakhala Foundation's Community Co-ordinator and an expert in Early Childhood Development, literacy and community engagement.
Gush joined the Amakhala team earlier this year to manage its community projects, including the Bursary Programme that enables children of Amakhala staff members to attend the iJosi preschool and Sidbury Primary School for their Foundation Phase education.
During the year, the kids at Sidbury Primary School have been introduced to several child-centred and innovative approaches to education, including creating their own stories. Part of the community for 65 years and located at the Sidbury Sports Club, Sidbury Primary is an English medium, multi-grade school with one teacher responsible for Grade 1, 2 and 3 children in one class. The teacher's salary and a small amount for running costs are government-funded.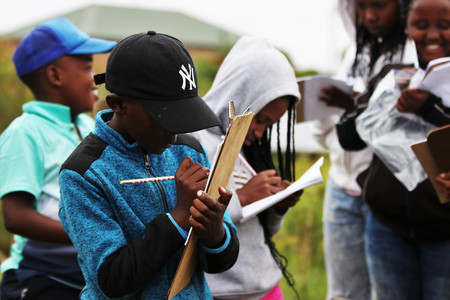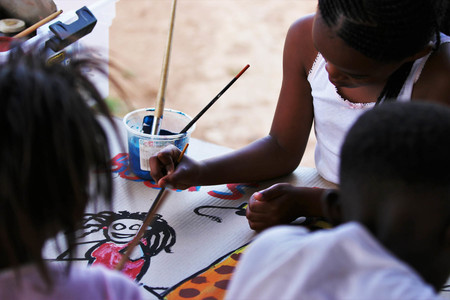 "Reading stories, telling stories and even simply creating dialogue about the story pictures builds a child's vocabulary and their understanding of reading and storytelling," explains Gush, who holds an honours degree in Sociology and a Diploma in Adult Education, and has 30 years of experience in the NGO education field.
"According to the recent Progress in International Reading Literacy Study report, 78% of South African children can't read for meaning in any language by Grade 3. They can technically read, but don't understand what they are reading. These poor reading skills mean that the children are at a disadvantage for the rest of their schooling careers and at a higher risk of dropping out of school early.
"We are bringing back reading and storytelling with programmes such as the ABC Reading Camp. With an uber-storyteller like Basil Mills leading the camp; great literature such as Chris van Wyk's iconic Mr Hare meets Mr Mandela, and the magnificent African wild all around to inspire storytelling, reading and journaling, these children will not only enjoy an amazing adventure, but also a life-changing experience that will ignite a love for reading and storytelling that will benefit them greatly throughout their Foundation Phase schooling – and the future that lies before them."