Here on Amakhala our Anti-Poaching Unit (APU) have been supported by a special K9 team since 2015; an initiative that ensures potential threats are swiftly dealt with. We have a team patrolling day in and day out to protect the endangered wildlife on our reserve. In order for these anti-poaching efforts to work, skilled and dedicated individuals need to be part of the canine unit. 
Meet Sammy and Ella
To assist us in our fight against poaching we have two highly-trained dogs.
Sammy, a 7-year old German Shepherd tracking and apprehension dog, and Ella, a Bloodhound-Doberman cross trained as a specialised cold-scent tracking dog.
Before their arrival on Amakhala, both Sammy and Ella received extensive training from a specialised dog handler. In order to further their tracking skills, we continue with day-to-day training to make sure the dogs are in top form and completely comfortable in their current environment. 
When doing K9 tracking exercises with the dogs, the team normally end with bitework training. This method of training teaches a dog to bite on command and is thus especially crucial for our anti-poaching dogs.
A big breakthrough for our K9 unit was when Ella found a knife on a poaching scene at a neighbouring game reserve – she tracked the scent which led the team to the exit point of the poachers.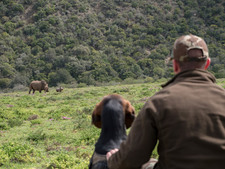 Support the K9 Unit 
Successfully managing such a vital anti-poaching component is a costly initiative which involves taking care and looking after the dogs, veterinary visits, buying and maintaining equipment and the salaries of the unit members.
If you feel like contributing to this cause or for more information about the three conservation pillars of Amakhala (Community – Conservation – Anti-Poaching), click HERE .