True to the meaning of its name "Isipho", the Isipho Charity Trust is a "Gift from God" to the impoverished communities around Paterson, a small rural town just 10km from Amakhala Game Reserve (AGR) in the Eastern Cape province.
The prevalence of HIV/AIDS in the province is estimated to be 8 - 11% [CADRE report for the Eastern Cape AIDS Council (ECAC)], leaving in its wake countless orphans, child-headed households and broken, impoverished families.
Thankfully, over the last decade, the rate of new infections in the province has dropped, in part thanks to the efforts of NGOs and caring citizens, such as David Banesi and Sindiswe Dumana, who established the Isipho Charity Trust in 2001.
An independent non-profit HIV/AIDS organisation, Isipho Charity Trust cares for 300 orphans and vulnerable children affected and infected by HIV/AIDS through two preschool classes, an after-care programme and a feeding scheme, as well as materials support for schooling and psycho-social support. It also provides home and community based care to community members living with HIV/AIDS and much-needed HIV/AIDS education through prevention, information, care and support programmes.
"Our vision is to care for our people living with HIV/AIDS, as well as the orphans and vulnerable children, as they are the most abused members of our community," says David Banesi.
"We are grateful to our supporters and funders, and proud of what we have achieved with the help of our Trust," adds Sindiswe Dumana, who was diagnosed with HIV/AIDS in 2001. "Over the last 15 years, thousands of local people have been educated about HIV/AIDS; have determined their HIV status; are taking their ARV medication; are no longer isolated but cared for and supported; and are living a positive life, helping others living with HIV."
Since its establishment, Isipho has been supported by the Amakhala Foundation. "The Amakhala Foundation is our pillar of strength," says Sindiswe. "They are always there for us. They have never let us down."
Amakhala assists Isipho with food parcels, time and expertise, and funding. It raised half the funding required for the Trust's property, as well as the money to build the preschool classes.
Amakhala Foundation's 'Hands-On Volunteers' also assist Isipho with general maintenance, the veggie garden and with English language and basic computer skills; while connecting Isipho with international donors. In addition, a weekly craft workshop teaches local teenagers income-generating skills such as sewing and beading.
HIV/AIDS days are regularly held on the reserve to create awareness and raise support, including HIV and AIDS prevention presentations by the Rafael Centre of Grahamstown, voluntary testing and counselling.
"The Amakhala Foundation is committed to building strong communities, families and individuals in the rural and conservation context in which Amakhala Game Reserve is located," says Jennifer Gush, Director of Amakhala Foundation. "Community is important to Amakhala Game Reserve and a big part of the Foundation's commitment. More than 80% of our staff members are local. Developing and expanding the capacity of our existing staff, many of whom have lived on the Amakhala properties for generations, is a priority."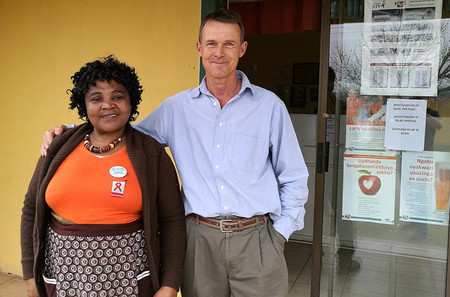 Sindiswe Dumana, Co-Founder of Isipho Charity Trust with Richard Gush from Amakhala Game Reserve