This year, as we do every year on 16 November, our guides and guests at Amakhala Game Reserve meet for a moment of solemn silence at "God's Window". Here stands a special Rhino Remembrance Memorial bearing the names of Chippy, Isipho and Geza - three of our precious Rhinos tragically lost to poaching. We pay tribute to and remember these magnificent Rhinos, as well as the 7,000 other Rhinos lost in South Africa since then, and we recommit ourselves to ensure the survival of this iconic species for generations to come.
This Rhino Remembrance Memorial remind us of what we have lost and what we will continue fighting for: the protection and survival of our Rhino.
On the fateful night of 16 November 2010, Amakhala Game Reserve became an early victim of what is now a full-blown poaching epidemic in South Africa. Two White Rhino bulls were tragically lost to the brutality of poachers in a single night.
'Chippy', with the 'chip' in his horn, was a healthy breeding bull while Isipho, meaning 'gift' in Xhosa, was just 5 years old and would have taken over from Chippy as the future breeding bull for the reserve's Rhino conservation project.
In a second poaching incident just months later, Geza - meaning 'the naughty one' in Xhosa – died from his wounds after his horns were barbarically cut off. An account of this horrific incident is recorded by Dr William Fowlds, renowned wildlife vet and conservationist, in his publication "Poached". It compelled Dr Fowlds to dedicate his life to Rhino conservation.
"I don't expect to make sense of it, or the similar rhino deaths that take place daily in my country. I do intend to ensure that the account of this one rhino's tragic end will reach into the conscience and hearts of all men and women, and compel each of us to do something towards stopping the suffering of this magnificent species and others like it." - Dr William Fowlds.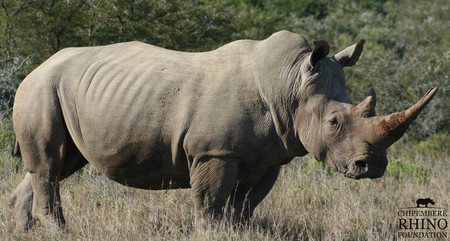 CHIPEMBERE RHINO FOUNDATION
After the loss of Chippy and Isipho, Brent and Chantelle Cook, the owners of HillsNek Safari Camp at Amakhala, established the Chipembere Rhino Foundation (CRF) with their business partners, Paul and Debbie Naudé and Derek Cook. Following the loss of Geza, Dr Fowlds also joined the team.
The name 'Chipembere' both honours Chippy and means 'white rhinoceros' in Shona. Amakhala Game Reserve has actively supported CRF since its inception.
CRF specialises in sourcing, testing and funding technology for effective monitoring of Rhino; funding K9 handlers and their tracking and apprehension dogs; providing anti-poaching teams with vital equipment and funding equipment needed to translocate Rhino across Southern Africa to safer havens.
With the assistance of an amazing team of volunteers, partnerships with Rhino custodians and other like-minded NGOs, and generous support from donors, the Foundation has made a significant contribution to the efforts to protect and preserve our Rhinos.
COMMITTED TO CONSERVATION
Rhino monitoring programmes and protection and anti-poaching measures are costly, which makes funding and collaboration crucial.
Amakhala's conservation levy has proven a viable contributor to funding multi-layered anti-poaching measures on the Reserve, including a dedicated Rhino monitoring programme and trained and equipped anti-poaching units.
A percentage of the levy is administered by the Amakhala Foundation to continue and expand our award-winning Conservation Education Programmes for local children, who visit the Amakhala Conservation Centre to learn about wildlife conservation.
"Poaching levels have reached crisis point. The Black African rhino have been classified as critically endangered and the White African rhino as near threatened. Should poaching levels continue escalating, our rhino could face extinction. As one of the species that makes Africa truly unique, our rhinos are invaluable to the expanding tourism industry in Africa, which creates employment and contributes significantly to the local economies," says Mark Palmer, Conservation Manager at Amakhala.
The unveiling of the new Rhino Remembrance Memorial: Video Credit to Ben Wallace
THE LEGACY LIVES ON
Last year, a precious new rhino calf named 'Schofe' was born to one of Amakhala's rhino, Themba. As Chippy's grandson, Schofe represents the second generation of rhinos now protected by a stringent anti-poaching team. Schofe was named after Phillip Schofield, the well-known UK presenter of This Morning Show broadcast on ITV. Read the full story
"Chippy, Isipho and Geza – and the 7,000 other rhino South Africa has lost since 2010 - we salute you. You are gone, but never forgotten. In your memory, we continue the fight to save your species!" says Brent Cook of CRF. "Collectively, all our efforts make a difference. Thank you to the rangers and guests who participated in this event. Your part in creating awareness contributes to winning the war against poaching, as we recommit on this day to our mission: Saving Rhino One at a Time!"
#chipembererhinofoundation