Growing up in a Paterson orphanage, Azola could not have known that one day he would be a wildlife warrior, protecting his natural heritage while inspiring the youth in his community. Yet for the passionate Amakhala Foundation team, it is exactly what they are working toward: Connecting kids to nature to inspire them to become the conservation and community custodians of the future.
Azola was just 10 years old when he and his two younger brothers were placed under the care of the Isipho Charity Trust based in Paterson. Here they were looked after, fed and educated at the nearby school.
He recalls: "A lot of people used to visit the orphanage to give us stationery and books about nature, as well as soccer and rugby balls, which made me extremely happy, because I love soccer and envisioned my future as a soccer player."
One of these visitors was a volunteer from Amakhala Game Reserve, who became instrumental in Azola's life. He took Azola and three other boys to the game reserve and introduced them to the bush. "It was the first time we travelled beyond our home village," tells Azola. "It was an eye-opening experience! We camped at Amakhala for five days, going on game drives and learning about the wildlife and how connected we are to nature. Thereafter, I would visit Amakhala during school holidays to help teach other kids about nature and to play soccer with them! I learnt a lot about nature and realised that the animals needed protection, too. I started thinking of starting a security business one day."
When Azola reached Grade 11, he was too old to stay at the orphanage and moved back home. "My brothers begged me not to leave them, so they also came to live with me at home. This was a huge responsibility for me, but I knew it was the right thing to do. I took responsibility not only for protecting them, but also for ensuring their dreams came true. I knew going to school was important. I set the example by getting up and going to school every day, even in the rain, and made sure they did too."
Having completed his Grade 12, Azola was recruited by the National Rural Youth Service Corps (NARYSEC) and graduated from the South African Infantry Battalion. Thereafter, he studied security and protection at Buffalo City College in East London. During this time, Amakhala Foundation lent a helping hand, ensuring Azola had food, a place to stay and the means to continue supporting his brothers.
Upon his return to Paterson, Azola reconnected with Amakhala Foundation, and was invited to participate in a dog handling training course in Port Elizabeth, which he passed with flying colours.
Today, Azola is the specially-trained K9 handler for Amakhala's Anti-Poaching Unit (APU), a protector and defender of wildlife on Amakhala Game Reserve. His passion for security and love for nature makes Azola and his trusty and extremely well-trained tracking dog, Sammy - a German Shepherd - an asset to Amakhala Game Reserve, and to wildlife conservation.
"I have not done this alone," says Azola. "Amakhala Foundation gave me a dream, then helped me make it a reality. Without Amakhala, my journey would have been very different. I would not have accomplished as much as what I have. They made things easier and inspired me through what they did for other people. They made me feel that we were loved and cared for and that inspired me to keep studying and working hard."
"We have also not done this alone," says Dr Jennifer Gush, director of Amakhala Foundation. "On behalf of our amazing community, and the precious wildlife we conserve, we thank every guest to Amakhala for your contribution to the Amakhala Foundation. It is making a meaningful and substantial impact, as we connect kids to nature and to fulfil our mission: conservation and community."
The Foundation is funded by donations and conservation levies from the commercial lodges and funding initiatives, such as sales of the annual Amakhala Wildlife Calendar.
"The conservation levy funds are applied to various conservation programmes, but it is primarily directed to protect our few remaining rhino, boosting the efforts of Amakhala's APU to protect the area and fight poachers," explains Jennifer. "It is also applied to sustain and expand our award-winning Conservation Education programmes that connect kids to nature, so we inspire the next generation of wildlife warriors, like Azola, who protect our heritage for the next and future generations."
Most recently, the conservation levy funded a new 22-seater game drive vehicle, dedicated solely to connect kids to nature by taking them on game drives to experience the magnificent wildlife in untouched nature and to teach them more about the value of conservation.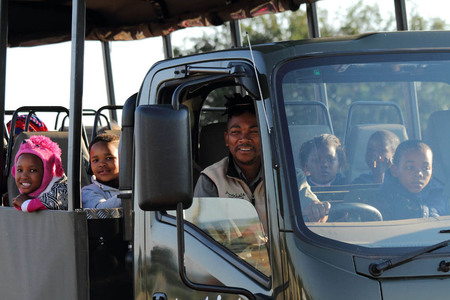 "This is the Foundation's goal: to raise conservation awareness through education by teaching children the importance of conserving animals and the environment for the future generations to see, and to cultivate an understanding and love of nature. For this reason, Amakhala's Conservation Centre (ACC), the 'home to conservation' was established in 2003 to manage the Foundation's conservation and environmental educational projects.
Amakhala offers environmental education programmes to various local, mostly rural, primary schools. High school pupils are sponsored for a day of learning about habitats and ecosystems and experiencing the animals in their natural environment. The Foundation also educates local children in partnership with Coaching for Conservation®, founded by conservationist Lesley McNutt and sponsored in South Africa by Investec Rhino Lifeline. Coaching for Conservation® uses great mentorship, wildlife learning and sport to teach children about wildlife and the skills that help animals to thrive.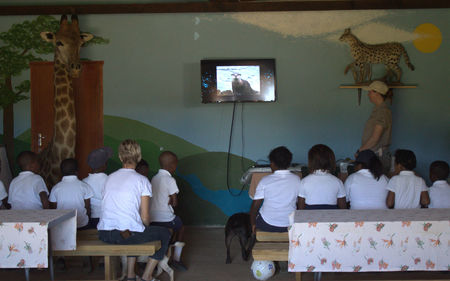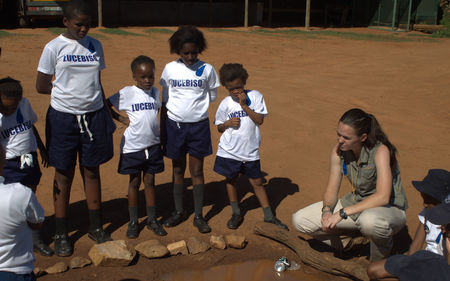 Each year, close to 2000 people, young and old, are positively influenced by these programmes to learn about environmental issues and connect with nature.
"I meet hundreds of school children that visit the ACC each year to learn about nature conservation. I enjoy nothing more than being part of a child's first wildlife experience. The thrill of seeing a child encounter a wild animal in its natural environment for the first time just never grows dull," says Jennifer.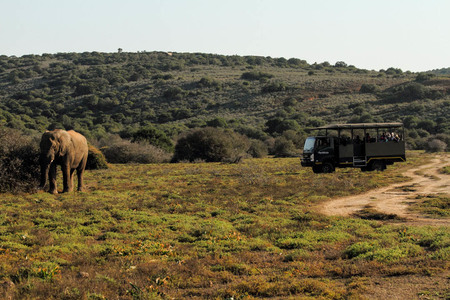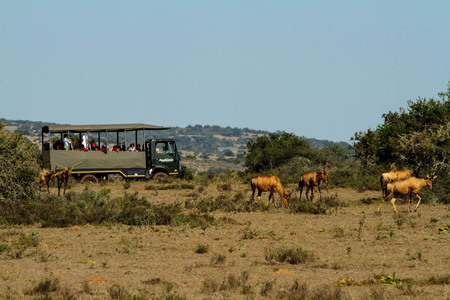 In addition, Amakhala Foundation ensures that young children of their staff members have access to quality education through Amakhala's Foundation Bursary Programme for the nearby local school, ensuring that the children can live at home and attend school until they are 10 years old. "We are building strong individuals, families and communities in the rural and conservation context in which our reserve is located," says Jennifer. "More than 80% of our staff members are local, and many have lived on Amakhala properties for generations. Their children are the workforce and community leaders of this area tomorrow."
Azola is a prime example of a young child from the area, who was brought up at Isipho Charity Trust and, today, stands on the frontline of rhino conservation.
"Protecting our wildlife is a very important job and we commend Azola for achieving all that he has over the years, overcoming all the obstacles and challenges in his way to become a conservation warrior and a role model to other young children of the community," says Jennifer.
"Being a role model to young children inspires me and makes me feel so good!," says Azola. "In me, they see a young warrior from their own community making a difference. My advice to them is to stay connected to nature, to be involved in their community, and to grab opportunities like those made possible by Amakhala – because you never know where it can take you!"
Azola's concludes with a message to all future conservation leaders this World Rhino Day: "Being a protector starts at home. Take care of your family and your pets, then expand your protection to the people and animals in the community surrounding you, then extend your care to your country and your heritage. The future is in our hands. The future of our rhino depends on the passion of our youth."