Happy Birthday Amakhala Game Reserve!
Today, 29 October 2019, marks 20 years of conservation and community at Amakhala Game Reserve! In celebration of this momentous occasion, we are launching our exciting new wildlife coffee table book Celebrating Twenty Years of Conservation and Community.
It commemorates Amakhala's amazing transformation since four farming families that have lived in the area since the early 1800s, joined their farms into a single 8 500-hectare game reserve on 29 October 1999.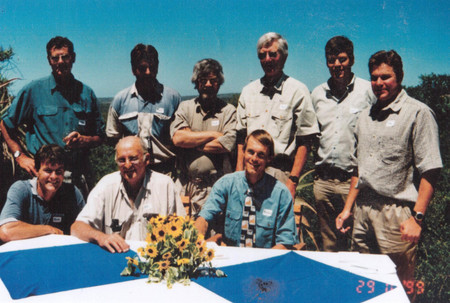 Founding members of Amakhala Game Reserve signing the constitution on the 29th October, 1999.
Twenty years later, Amakhala continues to thrive as an exceptional example of how agricultural land can be converted into a collaborative, viable ecotourism venture that protects wildlife and uplifts the surrounding community.
Today, our guests come from all over the world to enjoy unforgettable, authentic safari experiences in a magnificent landscape which encompasses five of South Africa's seven biomes and abundant African wildlife, including lion, elephant, rhino, giraffe and cheetah. We pride ourselves on our warm hospitality and personalised service, found at all ten of Amakhala's owner-managed safari lodges, tented camps and restored 19th- century country houses – all situated in the tranquil, secluded African bush.
A visual celebration of the spectacular landscapes and wildlife at Amakhala, Celebrating Twenty Years of Conservation and Community also details Amakhala's significant contributions to conservation and community over the last 20 years.
This includes one of our most significant milestones: being awarded Protected Area Status by the Provincial Government in 2018, as part of the Indalo Game Reserves Protected Environment. This is in recognition of our contribution to biodiversity conservation in South Africa, including multi-layered anti-poaching measures, a dedicated Ecology Unit, and our Amakhala Volunteers programme offering a hands-on wildlife conservation experience.
Community is also very important to us. The Amakhala Foundation was founded in 2009 to uplift the local community, through various initiatives such as the Amakhala Conservation Centre, where thousands of local school children come to learn about the environment every year; and the Amakhala Craft Centre, where visitors can purchase unique handmade items from local artists. The Foundation also equips community members through workshops and training, offers bursaries to the local Sidbury Primary School and provides funding for the iJosi preschool and the Isipho Charity Trust, which cares for 300 orphans.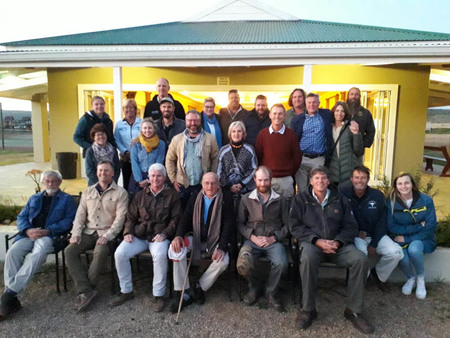 Members of the founding families and management team at the recent 20 year celebratory event held at the Sidbury Club.
Celebrating Twenty Years of Conservation and Community is a tribute to the achievements of the landowners, staff, managers and guides, who have all played a significant role in the success of Amakhala Game Reserve, and a heart-felt thank you to the families, friends and suppliers who have been part of this remarkable story.

"It is wonderful to celebrate 20 years of Amakhala with the launch of its wildlife book. Amakhala has, over the years, been fortunate to have combined all the essential ingredients for success. It is a conservation project forged by vision and courage, with its growth fuelled by determination and cooperation, culminating in the implementation of great structures. All of this, though, has only been achievable by the phenomenal support received from all stakeholders", says Rodger Gordon, Chairman of Amakhala Game Reserve.
Celebrating Twenty Years of Conservation and Community will be available from the Amakhala Game Reserve lodge shops and Amakhala Craft Centre in the upcoming months.
We look forward to sharing this celebration with you, as we look back proudly at 20 transformational years and commit with renewed vigour to Conservation and Community in the years ahead.
To find out more about Amakhala, please follow us on Facebook, Instagram and Twitter.