Scared of snakes, lizards and crocodiles? So were most of the 60 kids from Sidbury and Lucebiso Primary Schools and Alexandria Christian Academy, until they had a day of fun learning about reptiles at Amakhala Conservation Centre (ACC), in celebration of World Environment Day in June. Running an egg and spoon race and belly-crawling like a lizard made learning about scary creatures interesting and exciting.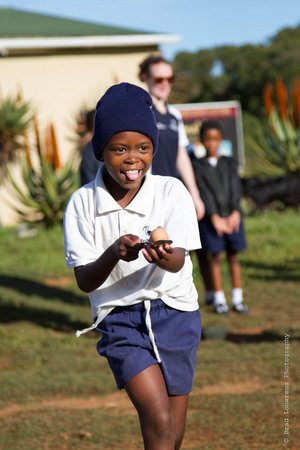 The kids were assisted by two volunteers from Victoria Girls High School in Grahamstown as part of their 67 minutes contribution to Mandela Day 2019. University students all the way from Dalhousie University in Canada also had something to write home about as they helped kids crawl, measure and cut. Since there are no pythons in Canada, they learned something too! You can read the Dalhousie students blog HERE.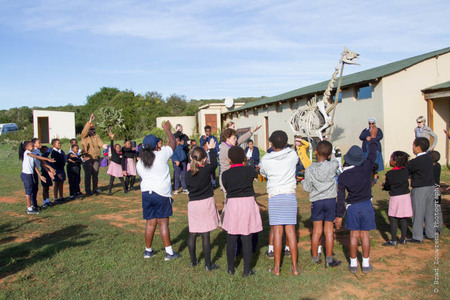 While measuring a python skin, the kids could touch real snakeskin and find out for themselves just how big pythons can grow – 3 to 4 metres! To take home as a memento of their day, the kids also made their own twisting and twirling snakes which - suspended from the ceiling - didn't seem scary at all. The Amazing Race activity had everyone thinking fast - finding pictures and facts about different reptiles hidden around the Centre grounds and completing a quiz quickly and accurately. By the end of the day, everyone was pretty dirty, having had great fun while learning about reptiles.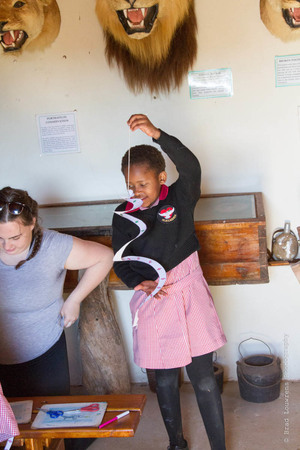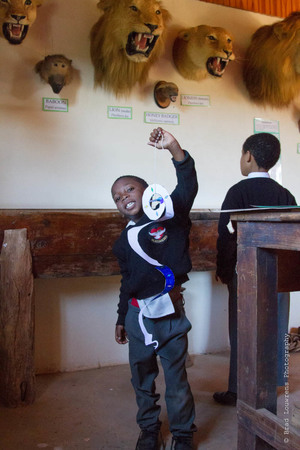 Established in 2009 and celebrating their 10th anniversary this year, The Amakhala Foundation is home to the community and conservation projects of Amakhala Game Reserve, as well as the educational projects of the Amakhala Conservation Centre (ACC). The Foundation's Environmental Education programme, including National Water Week, Arbor Week and World Environment Day, aims to cultivate an understanding and love of nature in local children, thus increasing awareness and concern so that future generations can enjoy our natural habitats. Each year, close to 2000 people - young and old - connect with nature through these different programmes. To learn more about the work the Foundation is doing, click HERE.