This year, 26 children from the communities surrounding Amakhala Game Reserve will be receiving quality education at Sidbury Primary School – and returning home to their families each day – thanks to the Bursary Programme provided by the Amakhala Foundation.
The programme supports children whose parents work at the Amakhala Game Reserve through their Foundation Phase (Grade R – 3) education at the Sidbury Primary School and at a small preschool known as iJosi.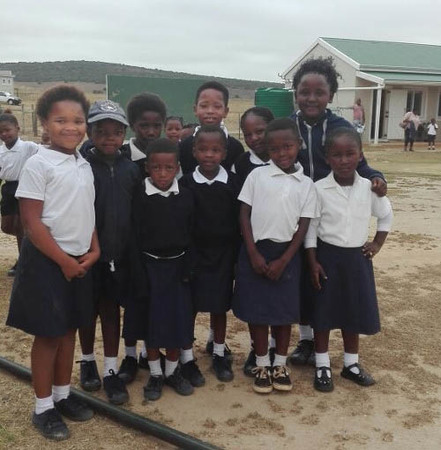 "The Bursary Programme started off with just 1 or 2 kids, but it has grown to 18 kids in 2016, 22 kids last year and 26 this year," says Jennifer Gush, the Director of the Amakhala Foundation. "It provides the young children of the Amakhala staff with access to a nearby local school, ensuring they can live at home and attend school until they are 10 years old. The Amakhala Foundation also provides funding for the iJosi preschool."
The Amakhala Foundation is the umbrella body for the Amakhala Social Development Programme and Amakhala Conservation Centre. It is funded by donations and bed levies from the commercial lodges on the Reserve, as well as contributions from guests.
Part of the community for almost 65 years and located at the Sidbury Sports Club, Sidbury Primary is an English medium, multi-grade school with one teacher responsible for Grade 1, 2 and 3 children in one class. The teacher's salary and a small amount for running costs are government-funded. However, for the last 20 years, parents have paid school fees to maintain a quality standard of education.
Gush explains that there is a great need for the school. "Twenty years ago, there were six small schools similar to Sidbury Primary in the surrounding areas, but these have been closed down by the Department of Education. This leaves the children in the area without a school near their home, so they are forced to move away from their families to attend school. The Bursary Programme supports the children of our staff members to stay with their nuclear families for the four or five years required to complete their Foundation Phase education.
"This improves their quality of life and creates firm family foundations, on which a strong community is based," says Gush. "In addition, many of the community members have lived in this area for generations, and as such their children are the workforce and community leaders of this area tomorrow.
"The Amakhala Foundation is committed to building strong communities, families and individuals in the rural and conservation context in which Amakhala Game Reserve is located. At least 75% of our staff members are local. Community is important to Amakhala Game Reserve and a big part of the Foundation's commitment."
This year, Cathy Gush, an expert in Early Childhood Development, literacy and community engagement will join the Amakhala Foundation team to manage its community projects, including the Bursary Programme. The vision for the future includes extending the support of the programme beyond Foundation Phase education to assist the children with placements in good schools and possibly even funding for boarding. There are also plans afoot to open a second preschool.
We took time out to interview some of the Amakhala Game Reserve employees whose children have been awarded an Amakhala Foundation Bursary to attend Sidbury Primary School in the Eastern Cape.
Dodosi Nkewana works at Amakhala Game Reserve as a Maintenance employee and Vuyiseka Kani works at Woodbury Tented Camp as a cook. They have two children, Junior in Grade 3 and Iyathandwa in Grade R.
Thando Nkewana and his wife Andiswa both work at the Woodbury Lodge. They have three children, two of which attend Sidbury Primary School; Amahle, Ubokho and Zimbini.
Sinethemba Macwili works at Woodbury Tented Camp as a waiter and has one daughter, Mahlali who is in Grade 1 and Sidbury Primary School.