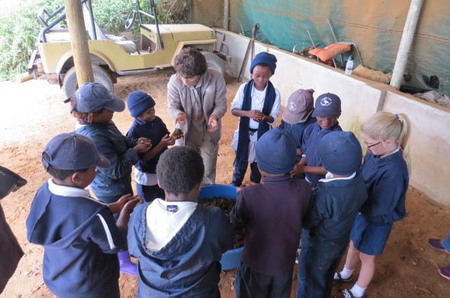 Jennifer teaching young conservationists how to roll dung at the Amakhala Conservation Centre
Arbour Day promotes the planting and maintenance of indigenous trees throughout South Africa. The Amakhala Foundation team recently celebrated Arbour Day at the home of Conservation in September. 
 Amakhala celebrates Arbour day to appreciate as well as conserve the environment (trees in particular). This year's theme was: "Trees are terrific": Valley Thickets. 
The three schools were from Sidbury and Alexandria. They did a rotation of activities, each group had to do everything the other group did. From dung rolling, tree painting, identification of trees and elephant mask crayoning, the children had a great time participating and learning.
Each group was told a story about the history of Dung Beetles and the elephants at Addo Elephant National Park. These beetles would collect elephant dung to feed on and lay their eggs in.
This was followed by a presentation of trees and the kids had to identify the different types of trees. It was good to see them showing a great deal of enthusiasm on our Arbour day here in the Amakhala.