We have been acknowledged as a Safe Travels accommodation provider by the Tourism Business Council of South Africa (TBCSA):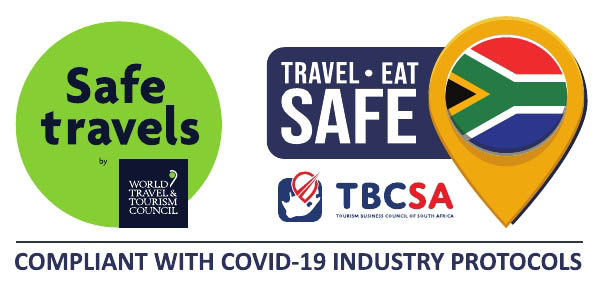 View Our Precautionary Measures PDF
COVID-19 RESPONSE
Staff
Amakhala Game Reserve would like to assure our agents, partners, guests and staff members that we are taking every precaution available to us to ensure our Amakhala family is protected. This is a priority given the current concern surrounding COVID-19. We are committed to pulling together as a community in this time of crisis. With the international travel bans hugely affecting our projected visitor numbers in the coming months, we are working hard to provide as much alternative employment to our staff as possible. This includes training programs, maintenance and refurbishment projects, as well as the development of community gardens.
Guests
We would like to advise all future guests that we are following the strictest health and safety guidelines as we reopen our lodges post lockdown. We are being led by numerous leading tourism bodies, health organisations, and resources, to ensure we meet all required preventative measures. Please download our COVID-19 Precautionary Measures document here. 
Should you require more information or have any questions about these measures, feel free to call us on +27 (0) 41 450 5658 or email: centralres@amakhala.co.za
Our hearts go out to everyone across the globe who have already been impacted by COVID-19 and we encourage all to stay safe.
Thank you for your loyalty, patience and support.